From Jodhpur to Jaipur, it is ideal and convenient to stop to enjoy the Thar Desert. Jaisalmer is a good destination for camel safaris, nomad gipsy villages or resting on oasis full of…goats! If you want to immerse yourself on the dunes, then book an overnight safari, where you sleep on the middle of nowhere under the stars after enjoying a delicious meal prepared in situ by the desert men. There is also another worth destination like Pushkar, best time to go is during the Camel Festival, full of vibrant turbans and stunning embroidery decoration on the desert animals.
Wildlife spotting in the Middle of the Pink City
Jaipur it is the biggest city of Rajasthan with its many markets one after another surrounding the inside of the old city.
First thing that you might notice in the Pink City is the animal activity mixed with the urban scene. Monkeys on the top of the pink roofs, elephants following the traffic, peacocks walking with elegance by your side, cows making the streets their own and dogs acting like city-guards. In the rest of magnificent Rajasthan's cities, you spot animals and see them as part of the urban life, but nothing like in Jaipur. The scene transforms into an even more chaotic and exotic environment, where tourists just need to learn quickly how to get used to this attractive mixture.
Indian Fashion History Lesson: Anokhi Museum of Hand Printing
A must-see in Jaipur is the Amer Fort, where it was the original city, as the pink city is relatively new. Instead of focusing just on more forts or traditional museums, visit the Anokhi Museum. A beautiful haveli from the X Century that now hosts an impressive collection of block printing techniques. The perfect place to understand this handmade millennial technique and be delighted with beautiful fabrics.
Shopping Adventures: Markets, Factories and Traditional Boutiques
Once you start exploring what Jaipur can offer you, tuk-tuk drivers try to make their day taking you to the textile, jewellery or arts&crafts factories where they get commission. Stay alert because you can ended up buying a silk scarf that will dye all your light clothes. If you find yourself overwhelmed by some factories and the bargaining hustle on the markets, head to the biggest store in Jaipur of Anokhi. Really good quality and beautiful designs for homewear, ladieswear and menswear. At the C-Scheme branch they also host an organic café perfect to rest after a long shopping day. In all India there is also another classic brand that serves good quality and cheaper prices than Anokhi, Fab India, more basic designs and fabrics, but for being on the road are a really good option.
Healthy Basil Tea: A Pleasant Greeting at Samode Haveli
A city with those grand settings and love for textiles and arts & crafts, deserves a stay that keeps you dreaming. That is Samode Haveli, a traditional indian mansion decorated with elegance and classic style, green areas and apartments arranged with a series of mini courtyards. As soon as you get into the big walled doors, you feel the height of a heritage hotel.
The welcoming is superb, you do not need to stay stand-up behind a counter, which you thank after a long journey. The living room where they sit down you and offer a basil tea full of flavour with warm towel for refreshing yourself, gets you in the mood for feeling at a real palace.
Spending Day and Night at a Heritage Haveli
It is very easy to spend the whole day inside the Haveli with a nice routine starting at the little and well-equipped gym, following a bath on the open air pool. Not to worry about the early morning chill, it is a heated pool with jacuzzi, which makes it even more attractive. One of the best things to do is to explore the whole property, it is surprising to find a cozy hindu temple and a very well mantained stepwell. The gastronomic offer it is so complete that you can even indulge yourself with an excellent room service. Who does not enjoy a good film on a super comfy bed and delicious indian food?
The rooms facing the garden are very quiet and with their own patio to have more relaxing privacy. Do not miss the occasion of taking a bubbly bath on the marble minimal and classy bathroom. The toiletries packed in nice vintage bottles make a good display.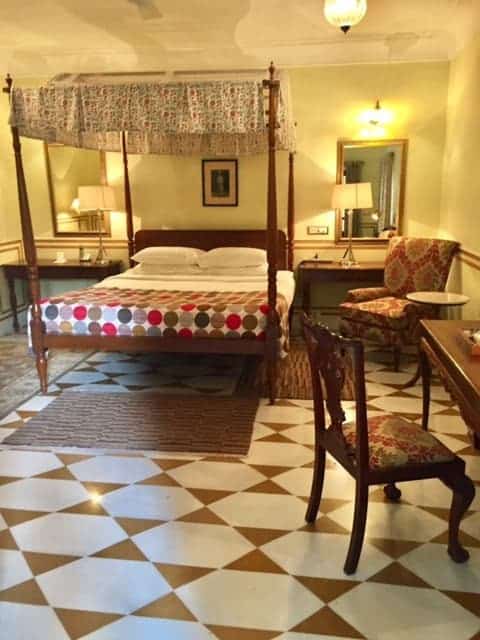 Even if you like a more contemporary stay, Samode Haveli it is the right one while in Jaipur because it goes with the whole feeling and provides you proper rest and treats. One of the things that they can really renovate it is the staff's uniform, it is a shame that is not matching anymore the elegance of the interiors. However, do not let the external appearance of the friendly staff let you down. Enjoy the real Rajasthani style at a haveli with a history of more than one hundred fifty years,  aunique experience!