Boston to Maine: the classic mini east coast road trip. As far as day trips from Boston go, it's an easy, breezy state to visit in under a few hours. The best part is, you can hop in the car or take the train to many of the town and cities nearby, depending on your preference.
When I was growing up, we used to go to Maine all the time for family vacations. From Bar Harbor and Sunday River to Saco and Portland, I enjoyed locations up and down the east coast.
This year, I wanted to re-live some of the magic with my husband and plan our own Boston to Maine road trip. Being weekend warriors these days, we wanted to find and upscale, beautiful location less than three hours from our front door. He likes to hike and be outside (even in the winter!) and I also like a little luxurious comfort and fireside cocktails.
Maine's Most Decadent: The Cliff House Resort and Spa
Have you ever entered a grand ballroom? Where the ceilings are high like palace, and there's decadent detail in every corner? The Cliff House Ogunquit offers just this with a modern Maine twist.
While our beautiful room was cozy and decked out with traditional nautical décor, the real draw was the grand entrance of the hotel. It's history dates back to the late 1800s, and has been a breathtaking place of tranquility ever since. Check-in the main lobby area, then descend down the staircase to be greeted with sweeping, floor-to-ceiling views of the cliffs and ocean waves. Maine does rugged seascape like no other, and the Cliff House has managed to bottle it up all in one panoramic vista.
Like most luxury resorts, the Cliff House offers amenities on-site to satisfy all tastes. Have a dip in the indoor pool, or try one of the two outdoor pools when weather permits. They also boast an outdoor heated hot tub for the brave who like to enjoy a snow winterscape surrounded by steam!
Most guests come to the Cliff House in Ogunquit to relax. You can get lost in a movie at their private theatre, or curl up with a book by the fireplace in the sunny lobby space.
Otherwise, indulge downstairs at the Cliff House Spa. Visitors can book various treatments to rejuvenate skin and polish up their toes. I appreciated the big robes to wear around the sauna and lounging areas too! Don't forget a tea after your treatment overlooking the ocean.
The Cliff House has a few dining options on-site, such as the upscale Tiller Restaurant.
There you can savor lobster dishes any time of year, or try one of their generous appetizers over craft cocktails. I think the dessert of homemade cookies and blueberry ice cream was the highlight. Take your nightcap out to the lounge area for some live acoustic guitar on weekends.
You can also have a quick lobster roll at Nubb's Lobster Shack or a morning latte at The Bald Head Coffee Co. But there's also unlimited Keurig coffee and fresh local milk available on every floor of the hotel.
If you'd like to book your own getaway to Maine, check out these specials for the Cliff House – especially in the off-season.
The town of Ogunquit is just nearby as well if you're truly itching to get off-property, but it's not necessary.
More Pitstops on Maine's East Coast
While Ogunquit, The Cliff House and even Kennebunkport nearby are enough for a trip in itself, you may want to do more. Within an hour are a few more options for day trips or overnights at your leisure.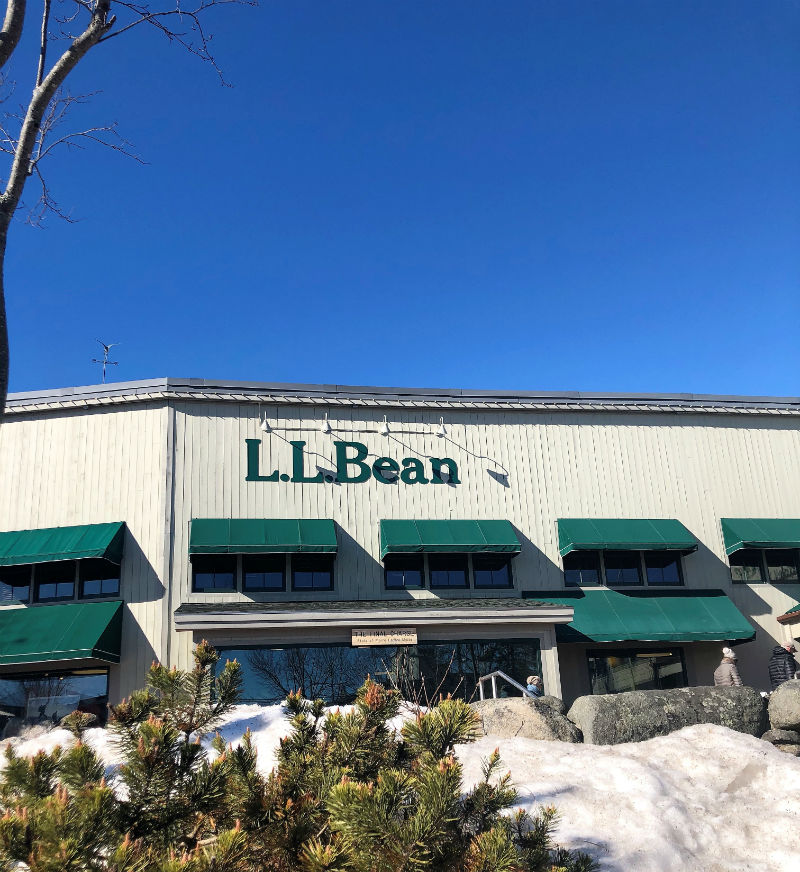 Freeport: About an hour north is the cherry town of Freeport. What makes it most famous is the LL Bean flagship store. Well, multiple stores! Lots of people will stop there on their Boston to Maine road trip (or take the train too). Have a wander through the various retail buildings that go all-out in presentations, including a trout pond and lots of taxidermy animals. Other retailers have jumped on board too, so you can check out deals at Patagonia and Fjallraven.
Portland: UPDATE 4/14: I've been now! Portland is awesome! Take a look at our two Portland guides here and here with a little something for everyone. This hipster city lies between Ogunquit and Freeport.
Boston to Main Road Trip: The Route
It's easy to reach the Cliff House Ogunquit from Boston. To drive, you follow Route 95 north about two hours from downtown Boston. Don't forget a cheeky visit at the New Hampshire border to the liquor stores – there's no tax!
If you decided to continue onto Freeport for shopping and strolling, it's another hour. Have a quick breakfast before getting downtown at the Freeport Café – the fantastic home fries are worth the stop. You can stop in Portland too (or stay overnight) between the two spots as well if you have a few extra days.
Boston to Maine Train: Options for State-to-State Routes
While we didn't take the train in this experience, it's a great option for those who prefer to skip the drive. To get to the Cliff House (Ogunquit), you can take Amtrak from Boston to the Wells Amtrak Train Station. It's about 7 miles by taxi to the hotel form there.
Or, you can go straight to Freeport and the LL Bean flagship store and start your trip form there. That's also Amtrak (the Downeaster line) from North Station. It arrives in downtown Freeport for an afternoon of shopping. You can then hop back on the train to Wells, close to the Cliff House as your base.
Although I'm a road trip woman at heart, Amtrak changed my mind recently with a trip from Boston to NYC. I love that the trains often end right downtown, are smooth, and clean. If you book far enough in advance, it's the same cost as a flight or even gas while driving. If you're a weekend warrior too, those extra few hours with Wi-Fi on the train on your way from Boston to Maine might be a game changer, just don't forget to connect safely to avoid any surprises while you're off the grid later.
There you have it! Start your Boston to Maine road trip any time of year for a quick staycation. If you love to drive or take the train, start anywhere on Route 95 and head north!
Have a look at our great Boston to Miami road trip if you're looking for an even longer adventure. Have you been to Maine? What's your favorite part? What's the best hotel you've ever experienced?