We chose Portugal and Spain for a giant road trip through several destinations, and planned 10 days in Spain and Portugal. Both are friendly and fun countries, easy to navigate and perfect for groups with several different interests. My husband and I met another couple shortly after we moved to London that we got on with swimmingly. A couple years in the making, we found time where all of us could do a holiday together. Our budgets were decent, but we wanted to maximize our time and our funds among the four of us. When you find those perfect friends that you know would be amazing to go on a trip with, you should jump on the opportunity!
10 Days in Spain and Portugal Itinerary
Day 1 and 2: The Algarve and Southern Portugal
Day 3 and 4: Lisbon, Portugal
Day 5, 6 and 7: Seville, Spain
Day 8 and 9: Granada and Rhonda, Spain
Day 10: Marbella, Spain
(Looking for just Portugal? Check out our Portugal itinerary: 5 days of fun too! Or stick below to our itinerary: Spain and Portugal together)
Day 1-2: The Algarve and Southern Portugal
Flying into Faro, we pick up our car booked through Auto Europe at the airport and headed west. The first place to greet us in the sunny Algarve region of Portugal is the Vale d'Oliveiras Quinta Resort & Spa. A gorgeous haven in the hills, with sprawling green property wrapping around endless luxury amenities. We had a blast drinking mimosas for breakfast overlooking the beautiful water installations, then watching in wonder the live acts over our outdoor BBQ dinner.
Hidden beaches are only a stone's throw from Vale d'Oliveiras too – although the water was chilly! We dove in anyway and took turns jumping off rocky cliffs, snorkeling and sun tanning. Do note that a lot of these beaches require a quick hike in the heat to reach – and welcome nudity. But it's all worth the experience, as they're some of the prettiest beaches I've ever seen. Keep an eye out specifically for Praia do Carvalho, which I think is the best.

Day 3-4: Lisbon, Portugal
A first for me, I was so excited to finally make it to Lisbon on my 4th trip to Portugal. NOTE: We did this a bit backwards, so you could fly into Lisbon, head south to the beach and then venture into Spain.
It's about a two-and-a-half hour drive, but you can take your time along the coastal route too for some beach breaks. Our sanctuary in the city is the award-winning Altis Belem design hotel. It's located on the river near the Padrão dos Descobrimentos monument.
Indulge in spectacular harbor views, a Michelin-star restaurant onsite and individually themed rooms that feel more like small apartments. Sleek common spaces with muted concrete and artwork details made for a sophisticated ambiance to be enjoyed between bouts of sightseeing. It was the perfect oasis to return to after a couple of days of riding the famous trams through Lisbon and admiring the vibrant street art.
We also loved the hidden gem below Altis Belem – a modern spa space available to guests for some soaking and relaxing. At the end of the day it's virtually empty, so we were able to float through the hot-and-cold pools in privacy.
We didn't have to look far for beautiful things to do (and eat) in Lisbon right from the hotel. A quick walk brought us to the front door of Pastéis de Belém, one of the original bakeries serving the famous custard pastry. Although not as fresh, it was fun to realize they serve these until late night, so we'd grab a few on the walk back to the hotel after dinner.
Car Switch!
While our budget was not super limited for a road trip within Europe, we did realize it would drastically change if we had a car rental for the full ten days. Most rental companies tack on a massive fee for a one-way trip when it crosses country borders. We were quoted an additional 600 euro for this route!
Luckily, the amazing people at Auto Europe offered a simple alternative: Two separate rentals. We had one car for our driving trip in Portugal for the first five days, then a second car for the second five days. It was a slight inconvenience, but it's only a two-hour drive between Faro in southern Portugal to Seville in southern Spain. It's simple to take an Uber, car share program or bus between the destinations and you can then use your saved funds to splash out later.
Day 5-6-7: Seville, Spain
My favorite city in the whole world. After studying abroad in Seville, then returning later as an au pair, it seemed as no time passed at all. The rich Spanish-style architecture, lovingly protected and celebrated as true Sevillano wonders. At first, we spent a night in the Helipolis neighborhood to enjoy a little pool-time in the staggering heat at Silken al Andalus, then headed into the barrios of the old town.
The Vincci La Rábida Hotel is super close to the giant gothic cathedral and the Alcazar Palace in Seville, so most attractions are easily accessible through the narrow cobblestone streets. This hotel has classic archways and a cool courtyard for a drink and a treat. Head up to the rooftop to see the top of the cathedral too. I don't know which was better – this rooftop view or the picturesque yellow-trimmed courtyard with fountain you can indulge for breakfast.
One thing that had popped up right before I moved back to the U.S. was the Metropol Parasol. I know it's a futuristic-looking structure with a mall on the ground floor but didn't realize how many layers could be explored until we went with our group at dusk.
Erected to avoid ancient ruins discovered below its surface, the 'mushroom' offers rooftop views of the city from a fresh angle. Pay for a ticket and take the elevator to the top, where there's a curvy catwalk flanked by a sign to highlight points of interest. Your ticket is good for a free sangria at the bar there too.
As for meals, we were lucky to stumble on the Casa Pepe Hillo. If you can move past the bullheads that decorate the walls, you'll be rewarded with some of the best tapas I've had in the city. It's near the famed bullring and is open until midnight.
Before leaving we swung by the Plaza de Espana and spontaneously decided to take one of the rowboats around the mini waterway. Impromptu flamenco song wafted through the air as we floated by the horseshoe of Renaissance and Moorish revival architecture. It's a must-see, and for a couple of euro, hilarious to row through too.

Day 8-9: Granada and Ronda, Spain
The drive onwards from Seville was scenic and lovely, with a stop in the staggering cliff-top town of Ronda, about 2-hours' drive prior to Granada. It was so hot so our trip was quick, but it was worth the pit stop to have lunch and marvel at the deep gorge in the main part of town.
To deal with the oppressive heat (besides blasting the air conditioning in the car) on our drive to Granada, we found a wild swimming hole near Benaojan and Ronda called the Cueva del Gato. It's off the main road and mostly frequented by locals, but don't miss the chance to take a dip! Bring some tapas and get ready for a crazy cold but crazy refreshing swim in the clear waters. Some people jumped from the mini waterfall with loud shouts and machismo behavior, which did ruin the chilled-out mood a little. But we still loved it and it was a welcomed break from the winding, bumpy roads.
Granada is rich in Moorish tradition, with its iconic Alhambra Palace perched on a hill overlooking the city below. You must buy tickets in advance to see this modern world wonder and be prepared for lines to get into some of the more spectacular areas of the complex. People might disagree, but I think if you also enjoy Seville, you can do one or the other – either the Alhambra or the Alcazar. Both are stunning and worth an afternoon of photo taking and soaking up the beautiful designs.
You can book public or private tours of the Alhambra through Viator and skip all the lines!
Besides the Alhambra, we were on a tapas hunt. In Granada, you can order a drink at the bar and they will offer a free snack! There is a real pizzazz to this method of eating and grazing. Be ready for your group to often get the same tapas, so warn the picky eaters. The guys didn't catch on fast enough and kept asking for pints – but if you plan several rounds, it's better to go for halves or small glasses of wine to get the best results.
Tapas-time evolved into Flamenco-time. We had heard not the best things about the touristy caves and wanted to still see some of this artform up close. Le Chien Andalou couldn't have been better- it's intimate and unassuming. At midnight, we saw an almost semi-private performance that moved a few people to tears. It's exactly as I remember it – tragic, mesmerizing and so powerfully done. I was humbled to see some great flamenco and would certainly go back to this place next time.
A lot of 'bebidas' has us feeling a little rough the next morning, so a session at the Hammam al Andalus was just what was need to cure our blues. I didn't think I'd like the cave-style hammam, especially with the hot weather outside, but it was wonderfully quiet and pleasant. Mint tea, steam rooms, hot stone areas and pools carved with Arabic/Moorish design transported us to another time and place. It's well worth the time for you and friends to fully relax.
Our hotel was also a highlight of visiting the city. My parents are huge fans of Marriott hotel properties as am I. However, I had not heard of the Autograph Collection before and think it's the perfect blend of brand-name service and local charm. The AC Palacio De Santa Paula is under the Marriott name, but boasts an old converted convent and traditional courtyard true to Granada style. Our rooms had a lofted wood beamed ceiling, modern bathroom and swinging dark wooden window shutters. It's one of the most aesthetically-pleasing rooms I've seen and a perfect base for exploring the rest of Granada by foot.
Day 10: Marbella
It was time to handle the heat one more time before making it to the coast. Near Granada is a sparkling turquoise reservoir that welcomes swimmers all year round. The Embalse de los Bermejales is gorgeous and located in a valley. Have a plan for shade as it's totally out in the open, but you can drive right onto the beach close to the water.
Before driving on, you must have a massive meal at the Complejo Rural El Molinillo overlooking the reservoir. We ordered way too many things and dug through piles of calamari, roasted pork, and fresh salads. There was a huge birthday party indoors, and the wait staff brought a few free tapas to apologize for the short wait.
A few long days of driving definitely earned us some luxurious rest at the end of an incredible trip. As we pulled up to the grand entrance of Villa Padierna, I knew we were somewhere special. I knew the likes of former first lady Michelle Obama had stayed at this property on her own trip to Spain, so our group was thrilled to experience some similarly lavish and enjoyed by American royalty. While the ambiance of the pool area and spa was wonderful, we also spent part of the day at Villa Padierna's beach club.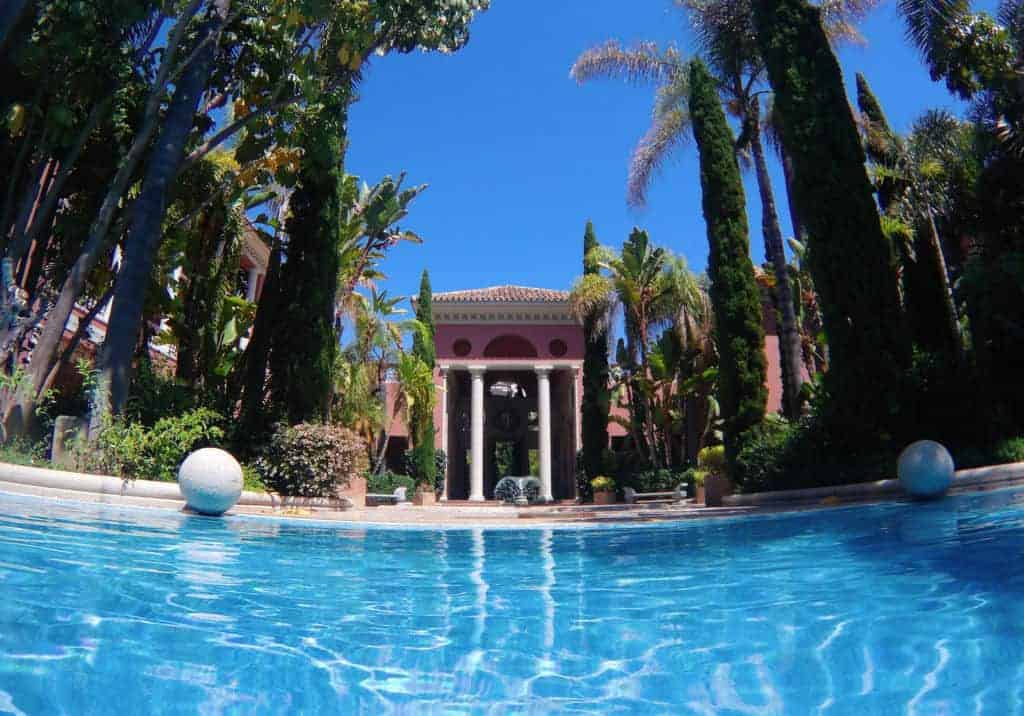 Although the property doesn't have direct beach access it should not be overlooked as a flaw; you can take a driver down five minutes to the shore any time during the day for a swim and a snooze under the cabanas. With a bottle of bubbly ordered to the room as the sun went down, we had our friends over to our spacious balcony and enjoyed one more evening in the balmy nighttime weather before returning.
A little adventure and a lot of luxury are what made our 10 days in Spain and Portugal unforgettable.
Have you taken a trip with your friends before? What's your travel style?