If you want to check out our full Spain road trip itinerary first, go here!
Where to stay in Seville
One of the first things people ask is where to stay in Seville, Spain? There are many great contenders. but the Hotel Al-Andalus is a great answer to that question! This modern, 4-star hotel in the Heliopolis barrio of Seville, Spain is a contemporary, business hotel that offers plenty of holiday indulgences.
Arriving in Spacious Style
We arrived in the late afternoon sun, after an inexpensive cab ride from downtown Seville.  The Hotel Silken Al-Andalus has an unloading bay to pull in to, which, in a densely populated city with tiny streets, took the stress out of unloading our bags.  We passed through circular rotating doors into a pleasant, air-conditioned lobby with glass windows that rose six stories above the floor.  The area offered plenty of seating, helping us escape the 100-degree heat outside!
Check-in was quick, and we were given keys to the Suerte suite up on the sixth floor.  The suite came complete with a living room/seating area, king size bed, separate shower, and bathtub, as well as double sinks and loads of storage.  The theme was classic Andalusia, with pottery in deep earth and red tones, and wood furniture that wouldn't look out of place in the Real Alcazar. The room had a nice view of the adjacent Estadio Benito Villamarin, which is where Real Betis play.
One thing that stood out to me in this room was the quality of the towels in the bath.  These were the thickest and softest towels I've ever come across in a hotel.  It was one of those little touches that makes you feel truly comfortable while away from home and made us happy with our decision on where to stay in Seville.
A Sevillano City Oasis
After getting out of the oppressive heat – the first stop for us was the pool area. Shaded by tall palm trees, and enclosed by a pool bar and the hotel, this was a quiet oasis away from the hustle and bustle of the busy city.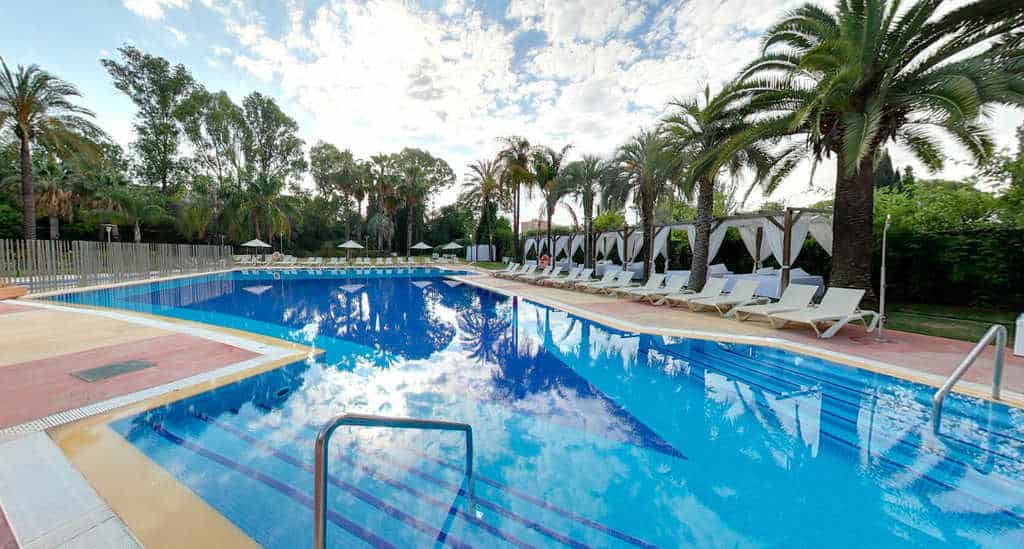 In between the pool and the hotel, a turfed area underneath the hotel's outer window, contained sofas and tables where we ordered very Summery drinks – a mojito and a pina colada!  It is often times hard to find great cocktails in parts of Europe – but there was no such dearth here.  The mojito was strong and sweet, full of lime and mint flavour – and most importantly – came with plenty of ice.  Another thing that is sometimes hard to find in Europe! The drinks also came with nuts and gummies which added to a theme of nibbles we found quite common in southern Spain. It was the perfect mid-day snack to hold us over until dinner-time.
Dining On Classics and Comforts
After a shower and shave, we headed down to the hotel's main lobby to Restaurante Carmen.  The eclectic menu contained a mixture of Spanish dishes, as well as other cuisines.  Eileen had the slow-cooked pork cheeks in gravy, and I had a chicken stir fry.  We shared a bottle of Albarino, which we both enjoyed thoroughly.  We finished the meal with Spanish fried bread – and the wonderful wait staff brought us glasses of Spanish sweet wine from Jerez.  It turned out to be an excellent nightcap. The only thing I would change is the harsh lighting in the dining room even at night – it left little to the ambiance despite impeccable service and cuisine.
The bed was large and comfortable and after a delicious meal and full belly, I was out like a light.

Brunch at Your Leisure
The next morning, brunch was held on the back patio under the shade of the hotel above.  This beautiful space was bounded by flowering bushes and the pool area.  Here again, the staff was wonderful.  The brunch buffet contained all of the usual suspects – friend and poached eggs, fruit, fresh pastries – but the main star was the Spanish food.
From Manchego cheese and jamon Serrano, to chicherones (fried pigs cheek), sobrasada (a pepper, paprika and meat pate), and Sal Morejo (cold tomato soup with a touch of cream and slight smoky flavour – the buffet contained an incredible selection. Of course, in true European and holiday fashion, I enjoyed the Diez Siglos verdejo and a superb Roger de Flor Brut Nature cava.  This was the real star.
With the sun low in the sky and the temperature not yet above 90, this brunch was the perfect way to start a day. Full on Spanish delicacies we were able to enjoy a day of exploring the gardens of the Real Alcazar and the characteristic barrios of Seville.
Overall, the hotel was a great trade-off.  You trade a little bit of downtown, for a lot of peace and quiet.  You trade the more packed parts of Seville, for a large pool area and a massive bed. You trade traditional Spanish buildings for modern air conditioning.  It's a worthwhile trade in my opinion!
We hope that now you have a better idea of where to stay in Seville, Spain on your next trip!