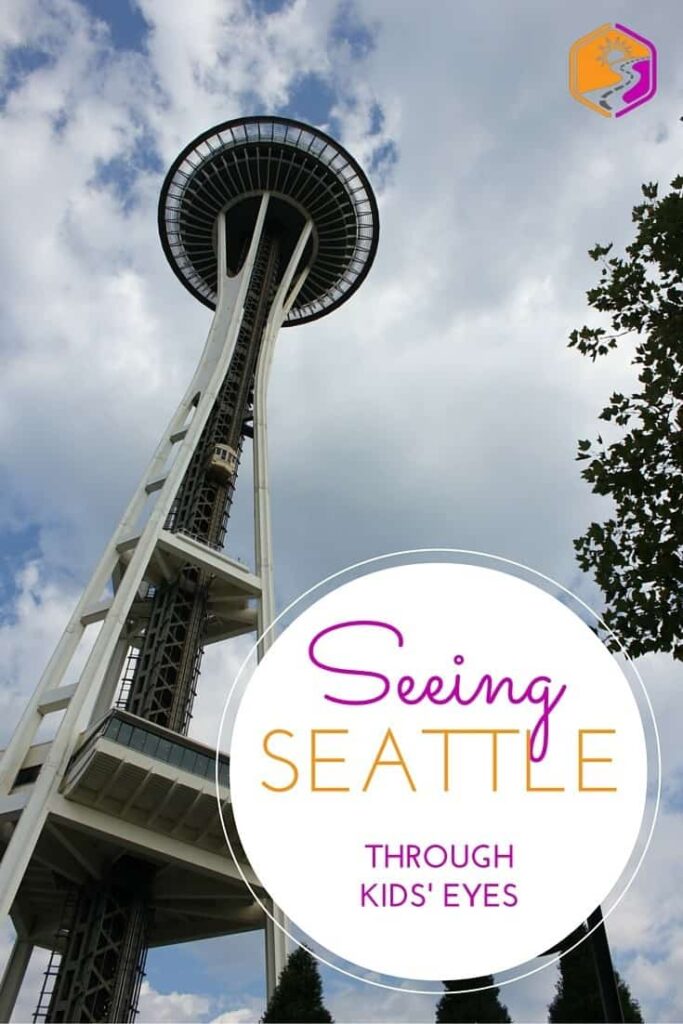 A child's mind holds unique ways of seeing the world—tiny idiosyncrasies that provide family and friends with new lenses themselves. That is just one of the reasons family travel can be so magical.
Seattle is filled with plenty of attractions that are commonly found in major cities: an observation deck, delicious food, an aquarium, rides and comfy hotel rooms to end the night. But seeing Seattle with kids gives you a new way to view these tourist spots while teaching your children about the area and its trendy culture.
Head in the Clouds
Most observation decks have tall, tall elevators that whisk you up to the tip-top of one of the tallest buildings in the city's skyline. But unlike other viewing decks, the Space Needle has a glass elevator that allows you to see just how quickly you're zooming to the top.
Once you arrive, let your kids wander—outside there are tower viewers that magnify things below and the wraparound deck offers a 360-degree panoramic view of the city. Rather than a typical concrete jungle, Seattle is also surrounded by greenery, something that makes the Needle a little more interesting than many observation decks.
Inside, one wall is a giant screen, filled with images of smiling faces out on the deck. "Picture Yourself Here" it says, inviting visitors to share their images on social media for the chance to appear on the wall. Kids will love this feature; take some silly selfies and submit them then watch and see if they show up. The screen also updates regularly with the number of visitors since the Needle opened in 1962.
Taste Testers
One of Seattle's coolest tourist spots is the famous Pike Place Market. You might as well bypass a visit to the first Starbucks (trust me, the long line isn't worth the trouble) because there are plenty of other spots here to get snacks and drinks as well as actual meals.
A major highlight is Seattle's original farmer's market, founded in 1907, that gives local farmers a chance to sell locally grown produce. You can also purchase meats, fish and a colorful variety of flowers.
Get some quick-service food as well. Beecher's, a cheese shop where you can watch them make the cheese through a window outside, has amazing macaroni and cheese, grilled sandwiches and artisan breadzels (long bread twisted like a pretzel topped with Flagship cheese). Stop by Pike Place Chowder in Post Alley for their clam chowder sampler, where you can try four different types of chowder. Let your kids help you choose from New England, Smoked Salmon, Market, Southwestern Chicken & Corn, Seafood, Seared Scallop, Vegan and Manhattan Style. The alley sometimes has live music to enjoy while you eat too.
If you're craving sweet treats, The Confectional offers a ton of flavors of mini cheesecakes, everything from Triple Berry to Peanut Butter & Chocolate. They're small enough that each child can have his own—no bickering over which flavor to try!
Seattle's Waterfront
South of the market, you'll find the Seattle Aquarium, filled with exhibits to interest kids and educate them on the animals of the sea. An open-air coastal exhibit called Birds and Shores will give you the chance to learn about local Northwest coastal birds and another one known as Puget Sound Fish provides a glimpse of the fish that swim just outside the waterfront aquarium.
Kids will also be delighted over their bigger sea creatures. The Marine Mammals exhibit is filled with sea otters, river otters, fur seals and harbor seals. Another great spot is the Orca Family Activity Center, where little ones can experiment through hands-on activities to learn about protecting the endangered whales. Hydrophones have been placed in Puget Sound so if you're lucky, you can hear the orcas calling to each other under the water.
Something that parents and children can enjoy together? The aquarium's shows. A diver show lets kids ask questions about the fish in the tanks, and you can also watch them feed the otters and seals as well as an octopus. They also have story time in the Family Activity Center at 11 a.m. each day, where staff members read ocean-themed stories to little ones.
Once you leave the museum, head a little further south to take a ride on the Seattle Great Wheel. The spectacular views are especially appealing to kids and the gondolas fit up to eight people so your whole family can join in. On special occasions like holidays or nights when there are University of Washington or Seattle Seahawks home football games, the white lights on the wheel change colors, displaying a waterfront LED light show.
End of the Night
When it's time to head back to your hotel, there are two convenient options.
If you want to head back past the shops and the mall downtown, walk from the waterfront to the Hyatt at Olive 8, a plush hotel that appeals to families because of its unmatched central location and special services. In addition to hypoallergenic rooms, they partner with Babies Travel Lite to ensure that you have access to all that your small children will need during your trip. The clean-cut rooms make a nice choice for relaxing sleep after long days of exploring.
An alternative is The Edgewater, the only waterfront hotel in Seattle. The unique décor resembles an upscale Northwest-style lodge, with plenty of wood and deep red accents. With a teddy bear positioned right in the center of your bed and a rubber ducky on hand for bath time, you children will love the room. The Edgewater also has gorgeous views of Puget Sound, a luxury in-house restaurant and board games on hand for families to enjoy in the evenings.