Even if you've not had the chance to visit London yet, it's highly likely you have heard, listen to and love albums upon albums of fabled music that have been created there. How about a bit of 'News of the World' or 'The Rise and Fall of Ziggy Stardust
'? Who couldn't love the incredibly talented musical influences that have called London home in the past and present. Their spirits soar through the city in legendary nightclubs, street art, outdoor performances and festivals that honor the greats. Here's a few of the UK's best rock gods and the legends they've left behind.
David Bowie
In Brixton, London 1947, a star(man) was born. David Robert Jones, known as David Bowie, was an iconic figure in the music industry for over fifty years. You may also know him as his flamboyant alter-ego Ziggy Stardust. Sadly, 2016 hit the world hard with loss after loss in the arts industry; it seemed every day a new celebrity had passed. We lost many great icons in music, theater and film in that wave of sadness and David Bowie was one of them, passing on 10th January 2016.
Losing one of the world's greatest music icons was a hard hit to take, but for anyone who wants to celebrate his life and musical career 'The Bowie Experience' is touring the UK for the whole of 2016. This is one of the top tribute acts to Bowie and has received praise from the man himself.
If you'd like a more personal experience, you're going to want to make your way to Heddon Street. This is where Bowie created the cover for his ultimate album 'The Rise and Fall of Ziggy Stardust and the Spiders from Mars', in 1972. This has now become a shrine for the star and a plaque has been installed to commemorate his life and work. Other places to keep your eye out for are 40 Stansfield Road, which is where he was born; The Berlin Wall Slab outside the Imperial War Museum; and The Bowie Mural in Brixton, painted by James Cochran in 2013 on the side of Morley's Department Store.
Even weeks later, people were still lined up around the corner to leave flowers and tokens of appreciation at this modest mural shine in Brixton. This ongoing tribute will most likely last for months to come, as his music and message remain timeless.
Dave Clark
English musician, songwriter, record producer and entrepreneur, Dave Clark, was born in Tottenham, London in 1942. He was the leader and drummer of The Dave Clark Five who were the band to follow The Beatles all the way to America, knocking them off the #1 spot for 'I Want to Hold Your Hand' with 'Glad All Over
'.
As a successful entrepreneur, Dave Clark owned property in London and the luxurious penthouse that played venue to many rock and roll, social, celebrity and red carpet premiere events is currently on the market as 'Mayfair's finest penthouse' for £15,500,000. It is located on the top two floors of the most celebrated art house cinema in Britain.
Now, aged 73, Clark along with Lenny Davidson are the only surviving members of The Dave Clark Five. Dave makes very rare public appearances, but did so in 2008 to accept their induction into The Rock and Roll Hall of Fame for the 50th Anniversary of The Dave Clark Five and also in 2015 to part present a documentary on their work.
Dave Clark was also a really good friend of Freddie Mercury, lead singer of Queen.
Queen
British rock band, Queen, were formed in London, 1970. They are one of the world's best selling music artists following the release of 18 number one albums and singles, and sales ranging from 150 to 300 million for their records. They were inducted into the Rock and Roll Hall of Fame in 2001.
If you want to absorb everything Queen related in London, except the actual Queen herself, you're going to want to head straight to the Queen Fan Club, 16a High Street Barnes, where you will find all manner of Queen merchandise, original gold discs and other fans to chat with. If you're looking to get a peek into the personal lives of the band members, you may want to stroll down Sinclair Road, where all of them lived during the seventies, at #36. Also, the famous Townhouse Studios at Shepherds Bush, where Queen worked many times, was one of Freddie's favorites. This is also where 'A Kind of Magic' was partly recorded.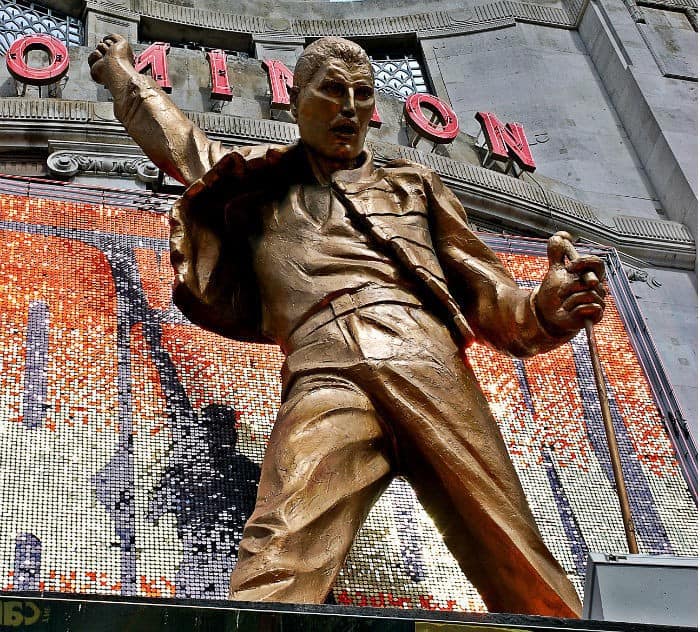 There's also a massive Freddie Mercury statue perched atop the "We Will Rock You" musical venue at the Dominion Theatre.
Brian May and Roger Taylor, the only surviving original members of Queen, can still be found headlining tours around the world with Adam Lambert as lead vocalist.
Amy Winehouse
Gone too soon, Amy Winehouse was an old soul with an amazingly successful music career in her short 27 years. As a born and bred London girl, Amy was a singer and songwriter and shared her deep expressive voice across a range of soul, jazz and blues genres, which won her 23 awards and 60 nominations.
Any fans of Amy Winehouse will be aware of her love of Camden, her hometown. In 2014 a bronze statue of Amy was installed in Camden Town
and opposite the home where she lived, at 30 Camden Square, you used to see flowers and messages from fans laid out in a shrine in the square. This has now been cleared away, but you will still find messages on the street signs around Camden, remembering Amy. You can often see lots of Amy Winehouse street art around the Camden area too, although street art tends to disappear quite quickly in London. On the side of The Earl of Camden Pub, you will find 'Atmosphere' by Pegasus which is a painting of Amy in a fur shrug, sporting her famous beehive.
Other musical legends of note, who either originated or developed their career in London are The Who, Billy Idol, The Rolling Stones, Boy George and Mick Jagger. Are there any shrines or places of interest you'll be visiting next time you're in London?