Unlike my robe-wearing counterparts, I tend to fan-girl out over Harry Potter in secret. I wish when I was younger I embraced the fandom a little bit more, but now as a thirty-year-old I thought I had to keep it classy. But after a visit to the Warner Brothers Studio Tour in London to see the originally Harry Potter movie magic, I realized there was nothing to be ashamed of. Seeing so many people from all over the world, of all ages and shapes and colors and background completely lose their minds over a book and movie, was incredible. No matter what you think about special effects and wizardry, there is something absolutely magical happening at that studio every day.
How to get to Hogwarts
From South London, the journey takes roughly a couple of hours by train. From the Watford Junction station there is a shuttle just for the studio you can hop on. Don't forget at least five pounds cash – they only take cash on the shuttle! We had to dig around for coins to board.
Upon arrival, grab tickets quick so you can get in line for the actual tour. Everyone is herded into a large room though so no worries when you enter, everyone has the same experience. It already was so exciting, the energy was palpable. I loved when everyone yelled out their country of origin and which 'house' they belonged to. What an amazing thing to all connect over. By this point I'm already tearing up in anticipation and feeling all the love.
What's nice is the tour leader offers some fun facts and figures about the movie franchise and it's history in the first room and the grand hall of Hogwarts. Afterwards, you're on your own to wander around at your leisure. The tour woman mentioned some people are done in 45 minutes, others take the entire day to check out every bauble and read every sign.
A few Harry Potter highlights
I don't want to spoil the whole thing for you! But there's a wonderful mix of real sets, costumes, character builds and even video interviews to make everything interesting. Fans will go crazy over the massive Hogwarts gate, Gryffindor common room and Buckbeak animatronic model, to only name a few highlights. Midway there is a café serving butterbeer as well!
Want to know what it tastes like? Some people say it's a cross between shortbread and butterscotch. I think that's a bit of a stretch. See my reaction below:
Outside there's a couple notable set pieces, from the houses of Privet Drive to the Knightbus. Which then leads into Diagon Alley, a monster movie-making room and the grand conclusion. I'm mum's the word about that one.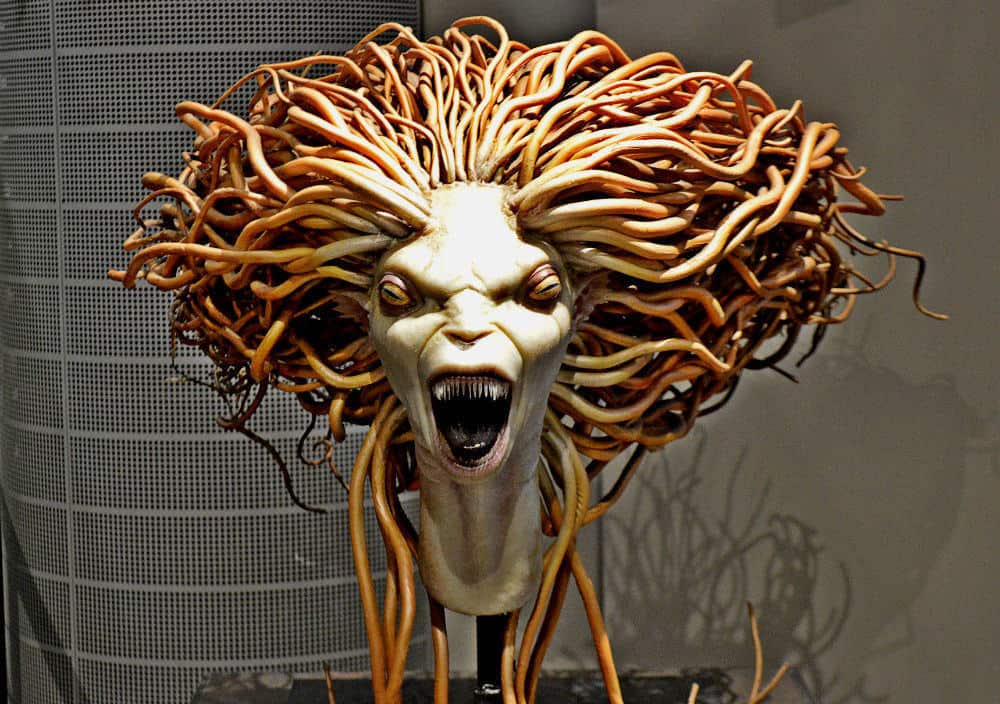 The day we were at the studio, word came of Alan Rickman's passing, who played Professor Snape in all the Harry Potter films. They left the subtle announcement until the last room. Boxes and boxes piled high in endless shelves of every color. Movie makers had everyone's names on the boxes who worked on the film and then some. By the small black box with Alan Rickman's name on it was a quickly made sign of the year he was born, then died. After seeing his sweeping potions room, iconic black robes and movie want in subsequent rooms, it hit like brick. But they did a wonderful job of keeping the magic and joy alive throughout the tour while still paying homage to an incredible man and actor.
Was it worth battling rush hour commutes to get to way north London? Absolutely. Do I still want to enjoy the Universal Studios version of Harry Potter? Of course. There is something wonderfully special about hearing kids in British accent argue over horcruxes and house quiddich teams and hidden snitches though while at the studio tour in London. It's not something I'll soon forget.
Thanks to Corey from Learning Patience for accompanying me as well as the Warner Brothers Studio Tour for the complimentary tickets!