Travelers want to know the hidden gems. They want to visit a city like a local, go off the beaten path, find new frontiers. I get all that. But who wants to skip the well-known good stuff?! I mean, that's why it's well-known in the first place!
I've been born and raised around Boston my whole life, so I'm always on the hunt for what's new and fresh. However, I called on some of my favorite bloggers who've visited Boston to dish on the classics. So whether if I's your first time or you want to rediscover the magic of this city, this list is for you.
We even included the opinions of New Yorkers. I know, but thier opinions are valid too.
Boston Public Gardens
I'm a New Yorker, and an alumnus of Boston College. Outside of the Red Sox, I have a strong affinity for the town of Boston. Whenever I return with my family in tow, I'm sure to introduce them to a part that they hadn't seen on previous visits. However, there is one constant site that is part of every visit, and that's the Boston Public Gardens.
It is a beautifully manicured green oasis in the middle of town. Every time I enter, I can't help but be floored by its beauty. It's a park in New England that reminds us of the parks of original England. It always seems to take us away.
We can spend hours just sitting by the pond snacking on treats we would purchase from Tatte Bakery, just outside the park on Charles Street, while enjoying the real and fake ducklings that float about.
It's simply our favorite spot in all of Boston.
Beacon Hill
Boston is a ridiculously photogenic city, and nowhere is that more obvious than Beacon Hill.
As one of Boston's oldest neighborhoods, Beacon Hill has the look and feel you probably imagine when thinking of Boston: red-brick mansions with black shutters and adorable, photogenic streets.
If you're taking a photo walk through Beacon Hill, be sure to visit Louisbourg Square, home to some of Boston's priciest real estate and some quite prestigious people, including former Secretary of State John Kerry. You'll also want to be sure to visit Acorn Street, the tiny cobblestone alley that is easily among Boston's most photogenic spots.
When you're done taking photos, be sure to stop by the famous Tatte Bakery, also located in Beacon Hill, for a snack!
Hoping to splash out for your trip to Boston? Consider staying at the Liberty Hotel, which was once an old historic jail now converted into a luxury hotel.
Museum of Fine Arts
Boston's Museum of Fine Arts is the fourth largest art museum in the U.S. and has a massive permanent collection of approximately 450,000 works. The Museum features the world's largest collection of Japanese works outside of Japan, the Art of the Americas wing, significant European impressionist paintings and some of the most treasured Chinese works of art. My favorite exhibits were their version of Monet's Water Lilies and Chihuly's Lime Green Icicle Tower. As one of the world's most renowned art collections, this is definitely a paradise for art lovers that should not be missed.
Faneuil Hall
Faneuil Hall marketplace was built in 1742 by Peter Faneuil as a gift to the city and people of Boston. Faneuil Hall marketplace consists of 4 structures, Faneuil Hall, Quincy Market, North Market and South Market.  Today Faneuil Hall has 49 shops, 18 restaurants and pubs including the Cheers replica bar, 35 colonnade eateries and 44 pushcarts. There are street performers out the front of Faneuil Hall that perform entirely for tips.
We arrived in Boston on Christmas Eve, I had chosen it as the place for my family to experience a White Christmas. We put down our bags and headed straight out to Faneuil Hall were we took in the street performers and some great food in the hall. It was busy and we were overwhelmed with choices and decided on a seafood chowder. We really enjoyed Faneuil Hall and Boston in general and especially the enormous Christmas Tree. We did get our White Christmas and I couldn't have been happier.
Charles River Esplanade
We frequently go for runs when visiting a city. It's a great way to explore while burning off the calories of all those delicious meals. Boston happens to be one of our absolute favourite running cities, mainly because of the Charles River Esplanade. Here you'll find paths for running, walking and biking, you'll also see many boaters and kayakers along the river and the canals that run alongside it. It's a perfect escape from the busy city, where you don't have to worry about dodging traffic. To make it even more picturesque we usually start our run the middle of the city, making our way through the Boston Common and Public Gardens, from there it's a short jaunt to the river. Normally we both run with music to keep us motivated, but this running route is so lively and scenic, distractions certainly aren't needed.
Here's a link to their fun vlog from their Boston visit!
Stay at the luxurious Hyatt Regency Cambridge overlooking the Charles River during your stay near Boston!
Boston Tea Party Ships and Museum
For the history buff, Boston Tea Party Ships and Museum is a must-see when visiting Boston. Located at 306 Congress Street, the museum is interactive, offering visitors an opportunity to immerse themselves in 1773 Boston and one of the most memorable points in U.S. history.
A tour of the Boston Tea Party Museum begins in the meeting house, where you are instantly thrown in to participate in a colonial town meeting. Visitors are given roles, and reenactors encourage full theatrical participation. Up in arms at the unfair treatment of the terrible English, the meeting moves on to one of two full-scale restored 18th century ships, where you join the angry mob to throw crates of tea into the harbor, before heading inside to the interior of the museum.
Exhibits are fun and multi-sensory, some are holographic, others include original artifacts.
The visit ends with a stop in Abigail's Tea Room, where you can order baked goodies and sample the five teas thrown overboard at the original Boston Tea Party.
Mike's Pastry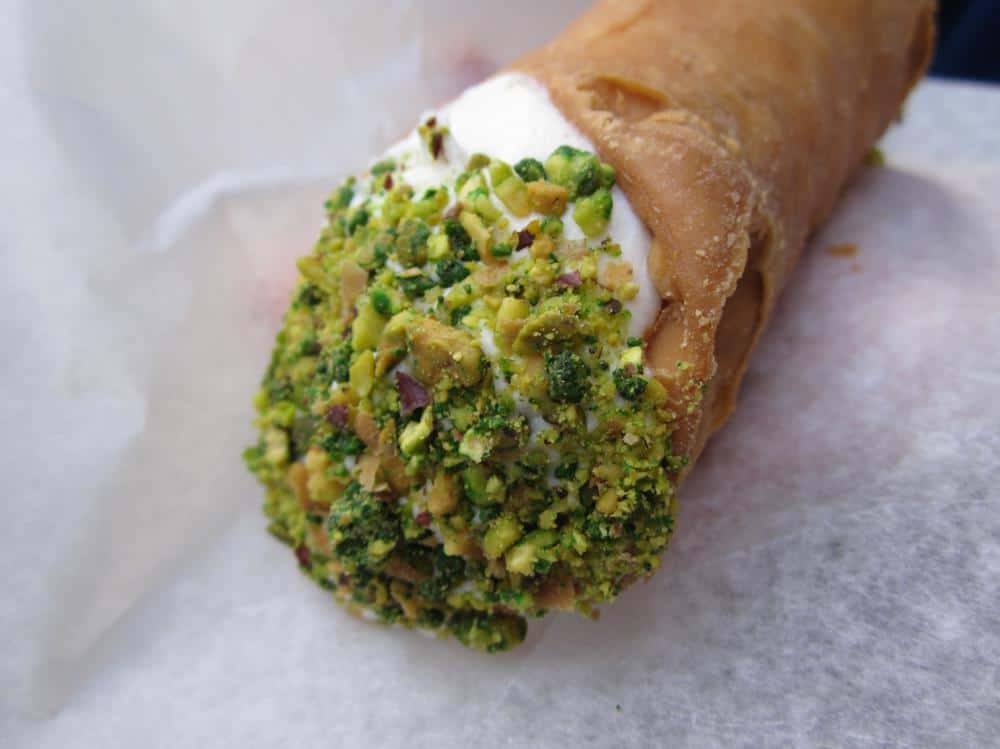 A visit to Boston is incomplete without stopping by the famous Italian bakery, Mike's Pastry. The iconic shop is located in North End and has locations in Cambridge and Somerville. Locals and visitors visit Mike's Pastry for their delicious cannolis, pastries, and cookies. Stop by this place to take boxes of goodies back home as souvenirs. The line may be long to enter the shop, but the employees process orders efficiently. Don't forget to bring cash as credit cards aren't accepted.
We love the cannolis. They are made to order and you can choose from a variety of fillings such as pistachio and chocolate chip. This bakery has the best amaretti (almond macaron) and pignoli (macaron topped with pine nuts). They're are crispy on the outside and moist, soft, and chewy on the inside.
Cheers Bar
The bar where everyone knows your name is a famous institution in Beacon Hill, Boston.  Founded in 1969 as the Bull & Finch pub, this bar is best remembered as the exterior for the bar made famous in the NBC sitcom Cheers, which ran between 1982 and 1993. The interior was never used in the TV show, but you'd never know that when you step through the door and are met by life-size cutouts of your favourite stars.  There's been a replica Cheers Bar at the Faneuil Hall that you can visit too.  But there's something special about heading to Beacon Hill and raising a glass to Sam, Diane, Cliff, Norm and Carla. When you're done with your beer, you can take a few photos, buy a few souvenirs and reminisce about 80's sitcoms.
Brattle Book Shop
Yulia Dyukova from The Foodie Miles
Although located in the heart of Boston, this book shop is hidden from the public eye on a small side street. If you are in Downtown Crossing area or exploring Boston Common, you just have to turn to West Street from Tremont Street to find one of America's oldest and largest used book shops. Their stock includes 250 000 items including books, maps, prints, and postcards.
Brattle Book Shop features two floors of general used books, as well as one floor dedicated to rare, signed, collectible books. But my favorite part of the store is their outside lot where carts with $1, $3, and $5 books are located year-round, weather dependent.
Day Trip: Salem, MA
When people think of the history of Massachusetts and witch trials, they typically expect to trek out to Salem. However, you needn't go that far just to get a bit of this interesting and tragic history. What most people don't know is that there were actually witch trials in Boston, and there's a memorial to Goody Ann Glover, who was an Irish immigrant executed for witchcraft before there ever was a  Salem Witch Trials. In fact, many experts believe that it was this Boston trial that inspired the girls in Salem to begin making their claims. Considered a Catholic martyr, she refused to reject Catholicism and was also a victim of prejudice against native Irish speakers. You can stop and visit the plaque marking her tragic execution on Salem St. across from the Boston Common tourist center.
See on these and more on Boston trolley tours. This way, you can go past all the best landmarks, get baring on the city and then go explore on your own! Book now via Viator.