(Updated 2022! With all new spots and recommendations!)
Travelers want to know the hidden gems. They want to visit a city like a local, go off the beaten path, find new frontiers. I get all that. But who wants to skip the well-known good stuff?! I mean, that's why it's well-known in the first place!
I've been born and raised around Boston my whole life, so I'm always on the hunt for what's new and fresh. However, I called on some of my favorite bloggers who've visited Boston to dish on the classics. Most recently, I loved having TravelCon in my 'backyard' to see the city in a whole new way from people who are visiting – and our pros in the travel blogging 'biz. So whether it's your first time or you want to rediscover the magic of this city, this list is for you.
We even included the opinions of New Yorkers. I know, but their opinions are valid too.

Looking for a great place to stay while in Boston? Enjoy our review of the Assembly Row Hotel in Somerville, just a few stops from downtown for an upscale experience. If you' like something closer and near the water, try the Element Boston!
Time Out Market Boston
This June, Time Out Market Boston opened in Fenway's historic Landmark Center, which served as a Sears, Roebuck and Company warehouse and distribution center from 1929 to 1988. The 25,000-square-foot market houses 15 food stations run by some of the best chefs in the city. There is enough variety under one roof to suit everyone's taste.
Vegan? Head to MC Kitchen. Want a lobster roll? Try Saltie Girl. Ready for dessert? Stop by Gelato & Chill. Two bars located at opposite ends of the food hall offer local beers, wine, signature cocktails and mocktails, and kombucha. Seating is available at long communal tables inside the market or outdoor tables on the patio overlooking the green space. The market is open 7 days a week for breakfast, lunch and dinner.
Isabella Stewart Gardner Museum
If you're visiting Boston, you probably already know about the Freedom Trail and all the nearby universities. What you might not have heard about: the Isabella Stewart Gardner Museum, an underappreciated gem.
The Gardner Museum is a combination of beautiful art and incredible architecture near the Harvard Medical School and the Museum of Fine Art. It was created by a socialite who collected rare manuscripts and works of art, then built a four-story palace to house it all. (#LifeGoals, am I right?)
You'll need at least an hour to even scratch the surface of the Gardner Museum, where you'll explore rooms staged to mimic aristocratic Bostonian life at the turn of the 20th century. The museum's most popular highlight is the Courtyard, an open-air atrium that includes art as well as plants and water features. Remember to peek out the windows on the upper floors of the museum to take in the Courtyard from different angles.
Since learning about the Gardner Museum, I'll be recommending a visit here to every single person who heads to Boston. Don't miss out—you'll be glad you went.
The Granary Burying Ground
The Granary Burying Ground is a final home to several United States' founding fathers. When the oldest marker was set in 1666, Massachusetts Bay Colony was under English rule. The markers and famous occupants narrate the birth of a nation.
One marker pays homage to American victims of the Boston Massacre, including Crispus Attucks, who is considered the first killed in the American Revolution. Others commemorate Revolutionary War heroes who signed the Declaration of Independence: John Hancock, Samuel Adams, and Robert Treat Paine.
You'll also find Paul Revere's headstone; the patriot rests centuries after his famous ride. Perhaps the most debated grave is Mary Goose's, who may or may not be the real "Mother Goose."
Allow about a half hour or more to linger here under the elms. The carvings of death heads and rhyming epitaphs on slate are works of art themselves. Entrance is free. Map included.
Omni Parker House
For foodies, one place you must not miss is the Boston Omni Parker House Hotel. This historic luxury hotel, standing tall at the foot of Beacon Hill along the Freedom Trail, is the place where Boston Cream Pie was first created. Although it is named a pie, in reality, it is a 2-layer butter sponge cake filled with thick custard, and chocolate fondant on top. The texture is so silky smooth that every bite is melt-in-your-mouth perfection! Their Boston Cream Pie has become so popular that the hotel started delivering this delectable sweet treat nation-wide!
While you are at Omni Parker House, it is highly recommended to grab a drink at The Last Hurrah, named a "Great Whiskey Bar of the World" by Whiskey Magazine. The prize-winning bar has a comprehensive list of cocktails and martinis to keep you happy all night long! Have a sweet tooth? Order the Boston Crème Pie martini for a complete Boston experience!
Lenny Zakim Bridge
I fell in love with Boston. Various factors contributed to these feelings and interestingly enough, the Zakim Bridge was one of such factors. The Leonard P. Zakim Bunker Hill Memorial Bridge is one of the widest cable-stayed bridges in the world and was named by the Travel Channel as one of the World's Top Ten Bridges.
Opened to the public in 2003, the bridge is named after civil rights activist Lenny Zakim and the American colonists who fought the British in the Battle of Bunker Hill. At 1,432 feet long, the bridge crosses the Charles River and lights up the Boston skyline!
Admittedly, I have an affinity for bridges and it's one of the first things I research about a new destination I'm visiting. I couldn't wait to see the Zakim Bridge lit up in all its glory! Let's just say that it didn't disappoint and makes for a great night photography subject!
For fantastic night shots, be sure to photograph the bridge from Revere Park as well as from behind the Bobby Orr Statue on the TD Garden side of the river.
The Institute of Contemporary Art – Seaport
One of the best kept secrets in Boston, MA is watching the sunset over the Boston Harbor from The Institute of Contemporary Art in the Seaport District. The ICA has cascading stairs you can sit on, while you take in the view of the seaport on a beautiful day. On First Fridays- a monthly occurrence- you can have a drink with friends, dance the night away under the stars, and every month there is a different theme that allows you to see the exhibits in a new light. Also, on Thursday's from 5pm- 9pm you can visit for free! Easily accessible by public transport and walking distance from Downtown Boston you cannot miss a chance to see the ICA and the dynamic Boston Seaport District during your visit.
The Boston Seaport is where you can find everyone in the summer months and the ICA is definitely one of its' highlights. Here you can also explore pop up shops, go bowling at Kings, and experience some of the best seafood in the city. Also the rooftop bars are one of the best kept secrets of Boston that tourists should not miss!
Massachusetts State House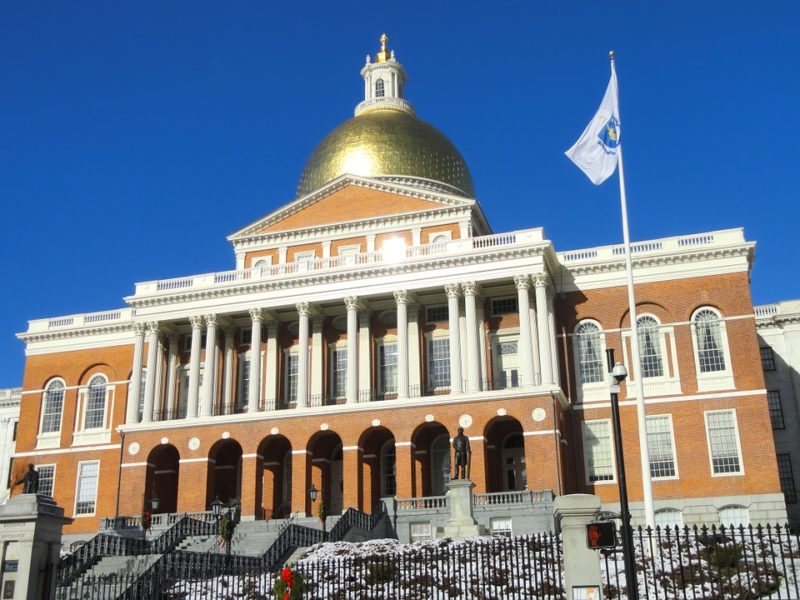 If you've ever been to the Boston Commons, you've probably seen the iconic golden dome of the State House. If it looks like the Capital Building, there's a reason. Charles Bulfinch, America's first professional architect, designed both structures. It looks so beautiful from the outside, but did you know that you can tour the State House for free? No wonder it's a featured stop on the Freedom Trail.
The architectural overload continues once you walk through the massive front doors. Looking overhead, you'll see stained-glass ceilings sparkling with an inner luminescence. Marble statues, floors, staircases, and archways surround you, and historical paintings and murals adorn the walls. When you visit the Massachusetts State House, you do not only see a masterpiece of Federal architecture, but you're also walking through a beautiful slice of history.
Union Street Oyster House
Union Street Oyster House on Boston's Union Street is steeped in history. The restaurant has been delivering delicious meals since 1826 making it the oldest continuously operating restaurant in the U. S.
The current building has had many lives; a boarding house, a textile warehouse and a printer – the first newspaper in the United States was printed there. But is as a premier seafood establishment that it really found its calling.
The restaurant has dark narrow corridors and low ceilings. At the circular wooden bar where thousands of oysters are shucked and eaten daily, there is a sign stating that Daniel Webster ate there almost daily when he visited the city.
The Union Street Oyster House is not all about history, however. It is all about the food. Here you can get seafood and fat, fresh oysters shucked in front of you accompanied by a cold local craft beer. You can't beat that!
The Emerald Necklace Parks
As a native Bostonian (and one who still lives here!), my tip for one of the best attractions in the city is the sprawling series of parks called the Emerald Necklace. These parks are over 1,200 acres in area, and give our city its green, relaxing heart. The most well-known part of this greenspace for visitors is likely the Boston Common in the heart of the city, but there are other parts of the park system further from the center that are well worth the trip.
My favorite part of the park "necklace" is probably Jamaica Pond in the Jamaica Plain neighborhood of Boston, but I could be biased because I particularly love the ice cream near it! Check the Emerald Necklace Conservancy site for an overview map of the parks and listings of the frequent events and festivals that happen within them.
Santarpios Pizza
Santarpios Pizza in East Boston is a 75-year-old family run business. They serve up pizzas complete with thick Boston accents, foreboding surroundings, friendly (but gruff) service. CASH only! The line ups outside every night illustrated this was a place to check out.
We opened the take-out door and stepped directly into the middle of the kitchen. The guy in charge said to us in a thick Boston accent: 'Whaddayawant?'. He pointed to the menu taped to the refrigerator and informed us he makes pizzas in one size only. We told him what we wanted and 20 minutes later we walked out the door with a box of hot cheesy goodness.
One bite was all it took to understand why there was a line up every night. If you want a truly local experience, hop on the T and head to Eastie. Bring your appetite, cash and a comfortable pair of shoes!
Boston Public Library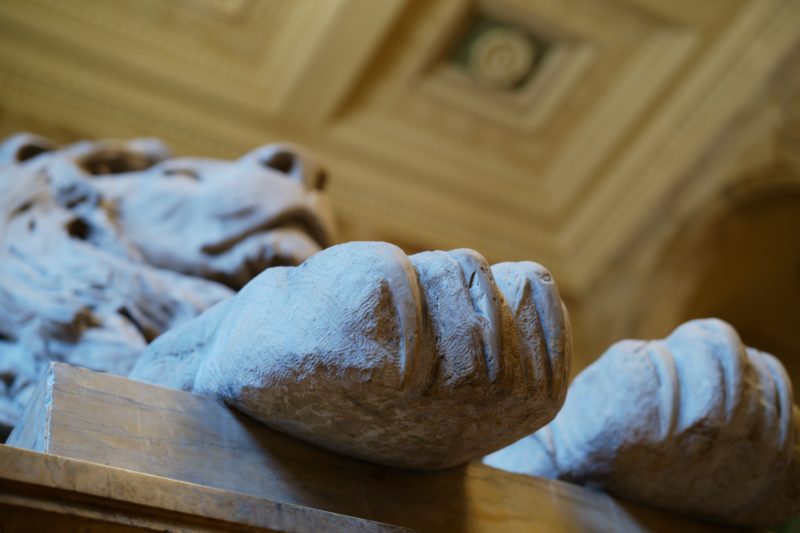 When you think of must-see sights, a public library may not be the first to come to mind. But if you find yourself on Copley Square (and you probably will), check out the Boston Public Library's McKim Building, situated right on the square across from Trinity Church. When you enter the McKim Building, opened in 1895 and a National Historic Landmark, go up the grand staircase (say hello to the lions on the way) and past the murals representing different scholarly topics. At the top of the stairs you'll find Bates Hall with its 50-foot-high barrel vault ceiling and oak bookcases and tables.
You can also take one of the weekly free, hour-long tours to learn about the art and architecture of the building, or just get a coffee or snack at the Newsfeed Cafe or the Map Room Tea Lounge (featuring tea cocktails) and relax in the courtyard if the weather is good. The library is a great place to enjoy some peace and quiet surrounded by incredible architecture as you recharge during your visit to Boston.
The Gourmet Dumpling House
Katie Minahan of Just Chasing Sunsets (Instagram)
Since I was staying at the HI Hostel in the Chinatown neighborhood of Boston for a week, I added eat legit Chinese food to my Boston to do list. I mean, I am surrounded by amazing Chinese food in San Francisco so, this could've been a tall order. The Gourmet Dumpling House rose to the occasion. I arrived at The Gourmet Dumpling around 7:00 pm to find a line spilling out of the door onto the sidewalk. I put my name on the list, and as I was dining alone, the waitress asked if I would share a table. I emphatically said yes – mentally adding another perk to eating solo to the list!
Within 5 minutes I was seated at a table in this tiny restaurant with two local guys getting the lowdown on the best items to order. Following their suggestions I ordered the soup dumplings (a first for me), the pork scallion pancakes, and the house fried rice. It was a lot of food for one person, but I just saved it for leftovers! I would travel back to Boston just for the soup dumplings!
Feel free to check out great places to stay via cozycozy vacation rentals in Boston while visiting this great city!
See a Red Sox Game at Fenway Park
When I think of Boston I think of hot dogs, a nice cold beer and the Red Sox playing on a hot summer day. I knew that when I finally had the chance to visit Boston, Fenway Park, the oldest ballpark in the United States, was going to be at the top of my to-do list.
I bought my ticket online and made sure to show up in time to grab my hot dogs before taking my seat in the hot summer sun but comfortably protected by my Red Sox ball-cap. There is nothing quite like walking into a stadium packed with tourists and life-long fans alike, singing a chorus of "Take Me Out to the Ball Game." If you are visiting from outside the USA or just outside of the state, this is a classic American past-time that everyone should experience at least once in their life!
Here's even more tips about one of our favorite places in Boston to visit for locals and visitors alike – Fenway Park!
Eataly
Eataly is an Italian foodie wonderland! If you've never visited Italy, you will find paradise in Eataly! Eataly Boston is a 3 story Italian marketplace with restaurants, goods, bakeries, and more. The fresh pasta, bread, and fish counters are filled with fresh goods and the cheese counter is ranked as one of the top in Boston.
The options were endless and will make you want to go home and cook up your own Italian feast. They even have a marketplace section where you can get imported goods from Italy. It easy to spend hours wandering around and eating around Eataly. Who knew there were so many different types of chocolate hazelnut spreads? Read all about how to eat around Italy in Eataly.
Grill 23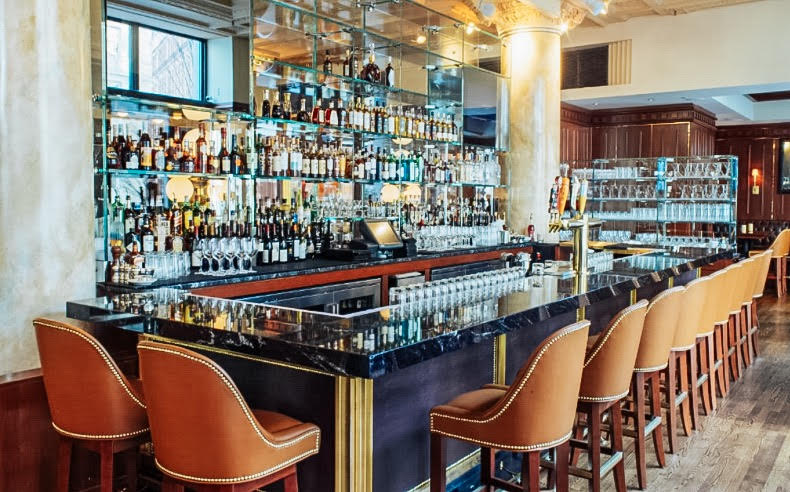 When I asked an old friend and former Boston resident where my wife and I should eat his response was this: 'The actual best place food wise is Grill 23 with nothing a close second.' That was good enough for us.
Located at 161 Berkeley Street in Boston's Back Bay, Grill 23 has it all: 'Brandt family beef, New England seafood, seasonal produce, decadent desserts, a world-class wine list, outstanding service and warm hospitality.' Upon arrival, we were greeted and taken upstairs to an intimate corner booth for the two of us. The restaurant prides itself on high quality ingredients and superior service – both of which it delivered on all levels.
I've enjoyed a nice steak my entire life and I'm not so sure I've ever had one better than this. I ordered the 14oz Dry Aged Prime New York and even though I forgot to add an 'addition' it was mouthwatering and truly unforgettable. Stephanie (not a meat eater) enjoyed a wedge salad and a side of roasted asparagus and was enamored with both.
When our server asked if we were 'celebrating' Stephanie and I both looked at each other and smiled. 'Yes! A night out without the kids!' That's all it took to enjoy a delicious dessert on the house as we soaked in the experience as long as we could. We were only in Boston for four days and only got a small sample of what the city has to offer. But during our time, Grill 23 was hands-down the best place food wise with nothing a close second.
Boston Public Gardens
I'm a New Yorker, and an alumnus of Boston College. Outside of the Red Sox, I have a strong affinity for the town of Boston. Whenever I return with my family in tow, I'm sure to introduce them to a part that they hadn't seen on previous visits. However, there is one constant site that is part of every visit, and that's the Boston Public Gardens.
It is a beautifully manicured green oasis in the middle of town. Every time I enter, I can't help but be floored by its beauty. It's a park in New England that reminds us of the parks of original England. It always seems to take us away.
We can spend hours just sitting by the pond snacking on treats we would purchase from Tatte Bakery, just outside the park on Charles Street, while enjoying the real and fake ducklings that float about.
It's simply our favorite spot in all of Boston.
Beacon Hill
Boston is a ridiculously photogenic city, and nowhere is that more obvious than Beacon Hill.
As one of Boston's oldest neighborhoods, Beacon Hill has the look and feel you probably imagine when thinking of Boston: red-brick mansions with black shutters and adorable, photogenic streets.
If you're taking a photo walk through Beacon Hill, be sure to visit Louisbourg Square, home to some of Boston's priciest real estate and some quite prestigious people, including former Secretary of State John Kerry. You'll also want to be sure to visit Acorn Street, the tiny cobblestone alley that is easily among Boston's most photogenic spots.
When you're done taking photos, be sure to stop by the famous Tatte Bakery, also located in Beacon Hill, for a snack!
Museum of Fine Arts
Boston's Museum of Fine Arts is the fourth largest art museum in the U.S. and has a massive permanent collection of approximately 450,000 works. The Museum features the world's largest collection of Japanese works outside of Japan, the Art of the Americas wing, significant European impressionist paintings and some of the most treasured Chinese works of art. My favorite exhibits were their version of Monet's Water Lilies and Chihuly's Lime Green Icicle Tower. As one of the world's most renowned art collections, this is definitely a paradise for art lovers that should not be missed.
Faneuil Hall
Faneuil Hall marketplace was built in 1742 by Peter Faneuil as a gift to the city and people of Boston. Faneuil Hall marketplace consists of 4 structures, Faneuil Hall, Quincy Market, North Market and South Market. Today Faneuil Hall has 49 shops, 18 restaurants and pubs including the Cheers replica bar, 35 colonnade eateries and 44 pushcarts. There are street performers out the front of Faneuil Hall that perform entirely for tips.
We arrived in Boston on Christmas Eve, I had chosen it as the place for my family to experience a White Christmas. We put down our bags and headed straight out to Faneuil Hall where we took in the street performers and some great food in the hall. It was busy and we were overwhelmed with choices and decided on a seafood chowder. We really enjoyed Faneuil Hall and Boston in general and especially the enormous Christmas Tree. We did get our White Christmas and I couldn't have been happier.
Charles River Esplanade
We frequently go for runs when visiting a city. It's a great way to explore while burning off the calories of all those delicious meals. Boston happens to be one of our absolute favorite running cities, mainly because of the Charles River Esplanade. Here you'll find paths for running, walking and biking, you'll also see many boaters and kayakers along the river and the canals that run alongside it. It's a perfect escape from the busy city, where you don't have to worry about dodging traffic. To make it even more picturesque we usually start our run the middle of the city, making our way through the Boston Common and Public Gardens, from there it's a short jaunt to the river. Normally we both run with music to keep us motivated, but this running route is so lively and scenic, distractions certainly aren't needed.
Here's a link to their fun vlog from their Boston visit!
Boston Tea Party Ships and Museum
For the history buff, Boston Tea Party Ships and Museum is a must-see when visiting Boston. Located at 306 Congress Street, the museum is interactive, offering visitors an opportunity to immerse themselves in 1773 Boston and one of the most memorable points in U.S. history.
A tour of the Boston Tea Party Museum begins in the meeting house, where you are instantly thrown in to participate in a colonial town meeting. Visitors are given roles, and reenactors encourage full theatrical participation. Up in arms at the unfair treatment of the terrible English, the meeting moves on to one of two full-scale restored 18th-century ships, where you join the angry mob to throw crates of tea into the harbor, before heading inside to the interior of the museum.
Exhibits are fun and multi-sensory, some are holographic, others include original artifacts.
The visit ends with a stop in Abigail's Tea Room, where you can order baked goodies and sample the five teas thrown overboard at the original Boston Tea Party.
Mike's Pastry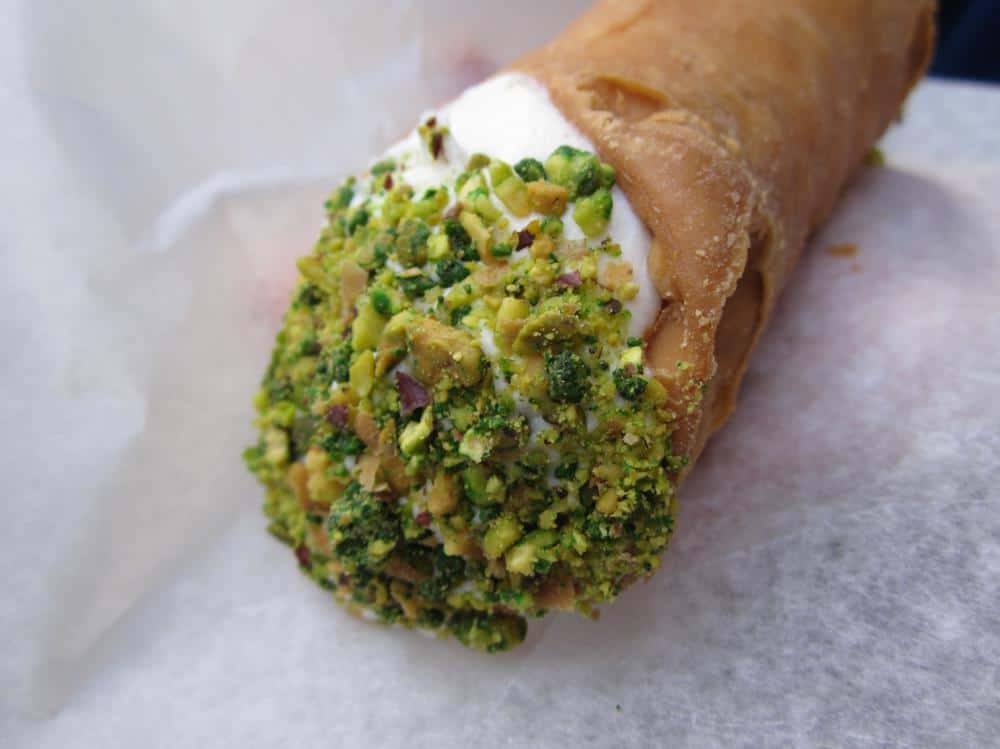 A visit to Boston is incomplete without stopping by the famous Italian bakery, Mike's Pastry. The iconic shop is located in North End and has locations in Cambridge and Somerville. Locals and visitors visit Mike's Pastry for their delicious cannolis, pastries, and cookies. Stop by this place to take boxes of goodies back home as souvenirs. The line may be long to enter the shop, but the employees process orders efficiently. Don't forget to bring cash as credit cards aren't accepted.
We love the cannolis. They are made to order and you can choose from a variety of fillings such as pistachio and chocolate chip. This bakery has the best amaretti (almond macaron) and pignoli (macaron topped with pine nuts). They're crispy on the outside and moist, soft, and chewy on the inside.
Cheers Bar
The bar where everyone knows your name is a famous institution in Beacon Hill, Boston. Founded in 1969 as the Bull & Finch pub, this bar is best remembered as the exterior for the bar made famous in the NBC sitcom Cheers, which ran between 1982 and 1993. The interior was never used in the TV show, but you'd never know that when you step through the door and are met by life-size cutouts of your favourite stars. There's been a replica Cheers Bar at the Faneuil Hall that you can visit too. But there's something special about heading to Beacon Hill and raising a glass to Sam, Diane, Cliff, Norm and Carla. When you're done with your beer, you can take a few photos, buy a few souvenirs and reminisce about 80's sitcoms.
Brattle Book Shop
Yulia Dyukova from The Foodie Miles
Although located in the heart of Boston, this book shop is hidden from the public eye on a small side street. If you are in Downtown Crossing area or exploring Boston Common, you just have to turn to West Street from Tremont Street to find one of America's oldest and largest used book shops. Their stock includes 250 000 items including books, maps, prints, and postcards.
Brattle Book Shop features two floors of general used books, as well as one floor dedicated to rare, signed, collectible books. But my favorite part of the store is their outside lot where carts with $1, $3, and $5 books are located year-round, weather dependent.
Day Trip: Salem, MA
When people think of the history of Massachusetts and witch trials, they typically expect to trek out to Salem. However, you needn't go that far just to get a bit of this interesting and tragic history. What most people don't know is that there were actually witch trials in Boston, and there's a memorial to Goody Ann Glover, who was an Irish immigrant executed for witchcraft before there ever was a Salem Witch Trials. In fact, many experts believe that it was this Boston trial that inspired the girls in Salem to begin making their claims. Considered a Catholic martyr, she refused to reject Catholicism and was also a victim of prejudice against native Irish speakers. You can stop and visit the plaque marking her tragic execution on Salem St. across from the Boston Common tourist center.
If you're itching to visit some of these beloved Boston spots, consider signing up for CityPass before your trip! You'll save big on tickets to Boston's best attractions, and you can space out your activities over a 9-day period.